Working from home has plenty of advantages: no transport hassles, fewer distractions, less stress, and of course no more worrying about what to wear. Now that your office is at home, those tailored suits and stiletto heels can stay in the closet - it's time to slip into something comfortable! But be careful, ladies: working in comfort doesn't mean spending all day in your pyjamas! Lingerie Le Chat can show you how to feel relaxed in what you wear, yet keep your professional edge.
4 GREAT REASONS TO DRESS WELL WHEN WORKING FROM HOME
When you're working alone from home, it's tempting to put minimal effort into what you wear, perhaps giving in to the call of our slouchy PJs or jogging bottoms. However, this type of outfit is far from ideal for working efficiently, and here's why:
1- Get your day off to a good start
Grab a shower, get dressed, do your hair and make-up. Sticking to your weekday routines sends a message to your brain that after a good night's rest, it's time to get going. This way, you're preparing yourself for an intensive, productive day.
2- Get into the right frame of mind
It's no secret that nightwear beckons you into a relaxed state of mind rather than one of productivity. When you get dressed as if you're heading to the office (okay, maybe leave out the high heels and jacket), you avoid the association of home and relaxing, and set your mind into work mode. This in turn boosts your self-confidence, a key ingredient for success.
3- Separate your personal life from your professional life
In order to maintain the distinction between your private life and your office, it's essential to compartmentalize your day. You no longer have a different place to 'go' to work, so you have to use your clothing to ring the changes. Give yourself work outfits, and separate garments for relaxation and leisure activities. This is even more important if other people are in the house: it's a visible signal that you're working and therefore not available.
4- Be ready for the unexpected
Whether it's the boss suddenly wanting you on a conf-call, a delivery driver knocking at the door, or a friend dropping in unannounced, you never know what the day will bring when you're working from home. So it's best to be prepared!
THE BEST HOME-WORKING OUTFITS FROM LINGERIE LE CHAT
What's on the home/work agenda today? Conf-Calls with your teams, important projects to finish up, a spot of exercise to clear your mind? There are a thousand and one ways to work from home, and probably as many ways you could dress. Whatever your work day is like, Lingerie Le Chat has the perfect outfit to go with it!
Today's going to be full-on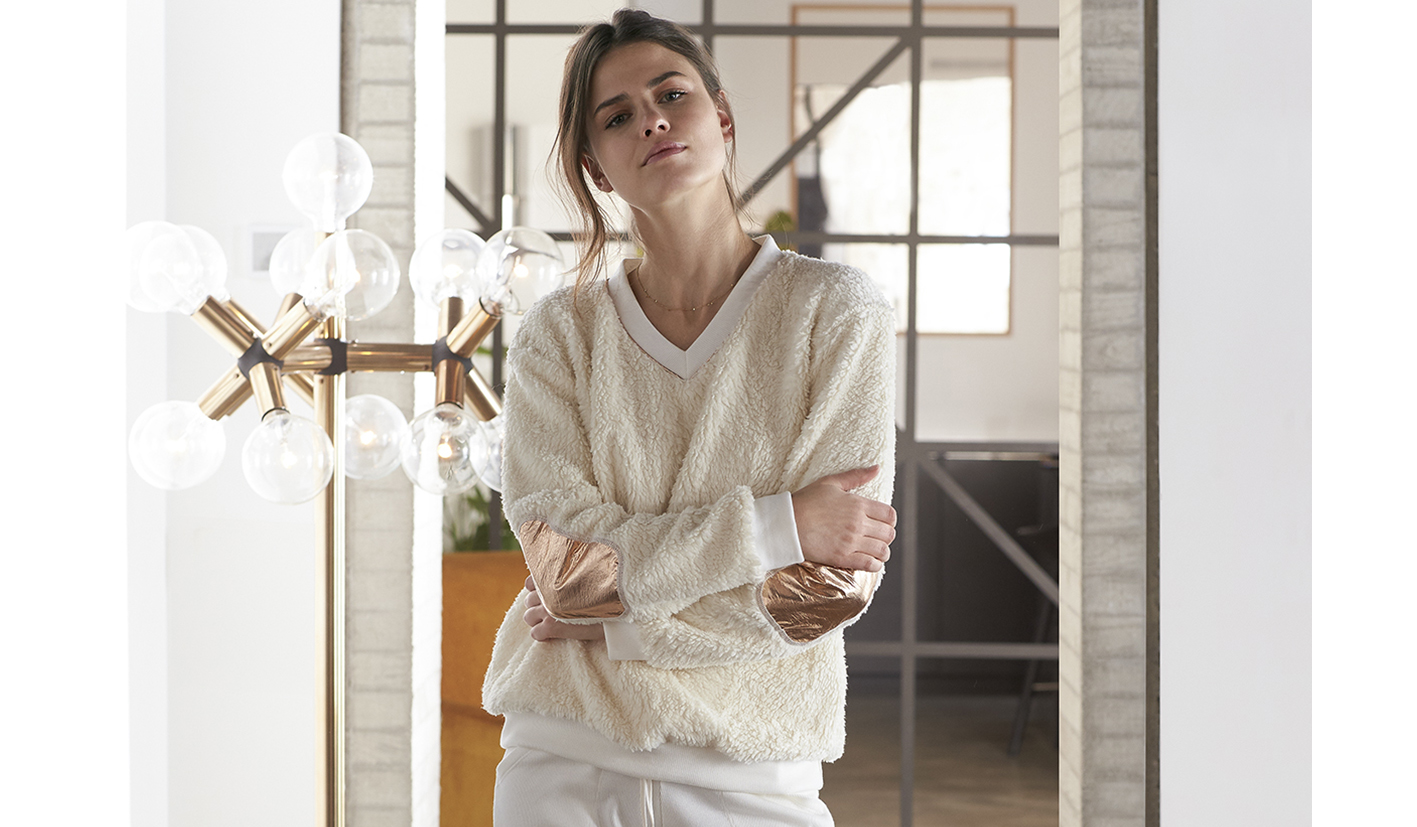 Writing up minutes, finishing spreadsheets, preparing for a meeting, doing the accounts: it's going to be a busy day! For maximum efficiency, you need the best possible work conditions, so you need to be both warm and comfortable.
Slip on your favourite ALPAGE fleece sweatshirt, so soft and cosy with its 95% cotton feel-good fleece. Not only is it easy to wear, the V-neck and copper-colour detailing keep it chic and elegant. Surely that can only boost your motivation!
I'm going to grab some fresh air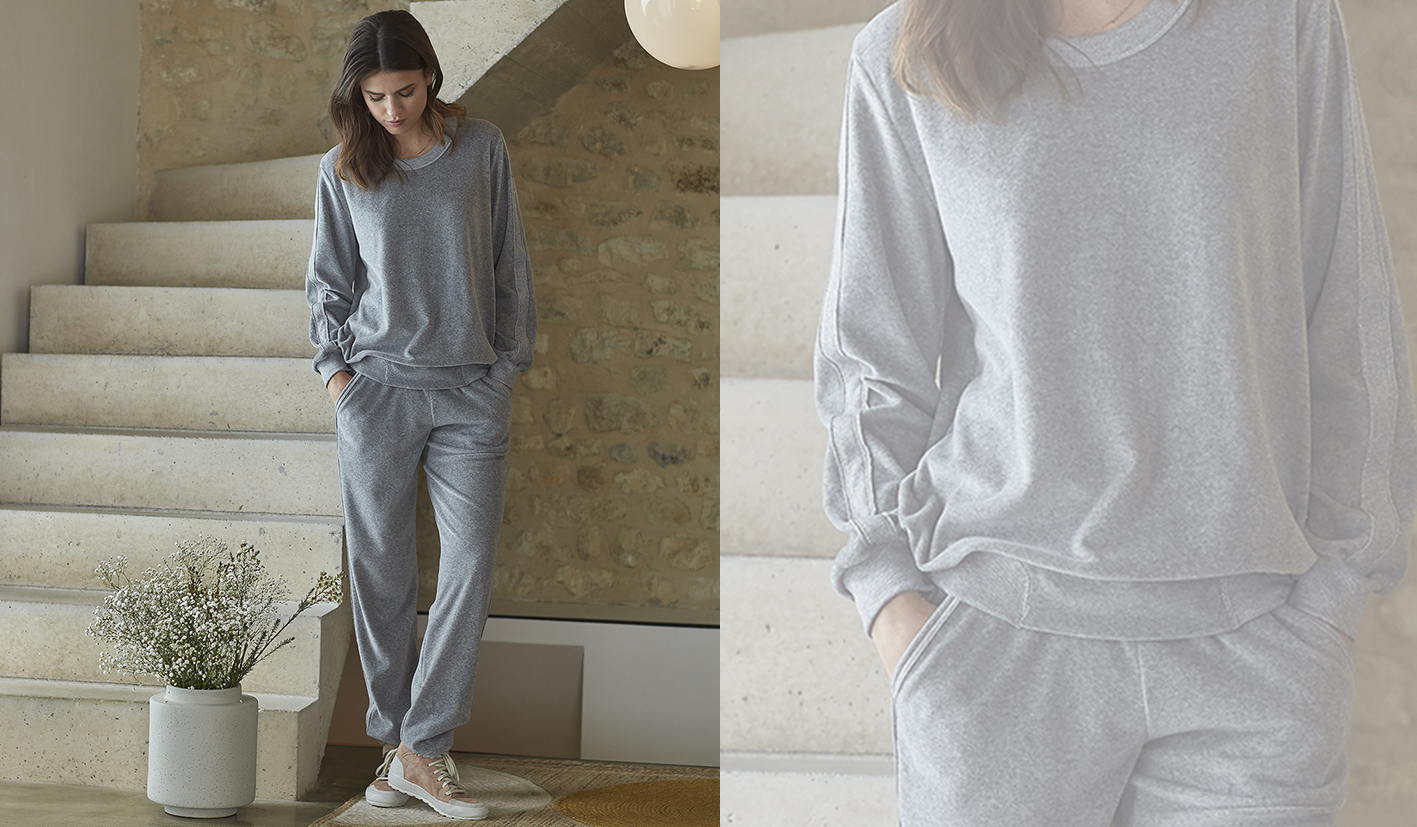 Just because you're based at home doesn't mean you have to stay indoors all day. Give yourself a break of one or two hours to get some fresh air and clear your mind. You can bet you'll be more efficient afterwards.
Whether it's for your weekly sports session or a quick daily walk, put on your CHAKRA velvet loungewear bottoms and you're good to go. This sporty-chic look goes with any top, including the matching sweatshirt or zipped velvet jacket. Grab your trainers and your bottle of water and get some air!
I've got a Conf-Call with my colleagues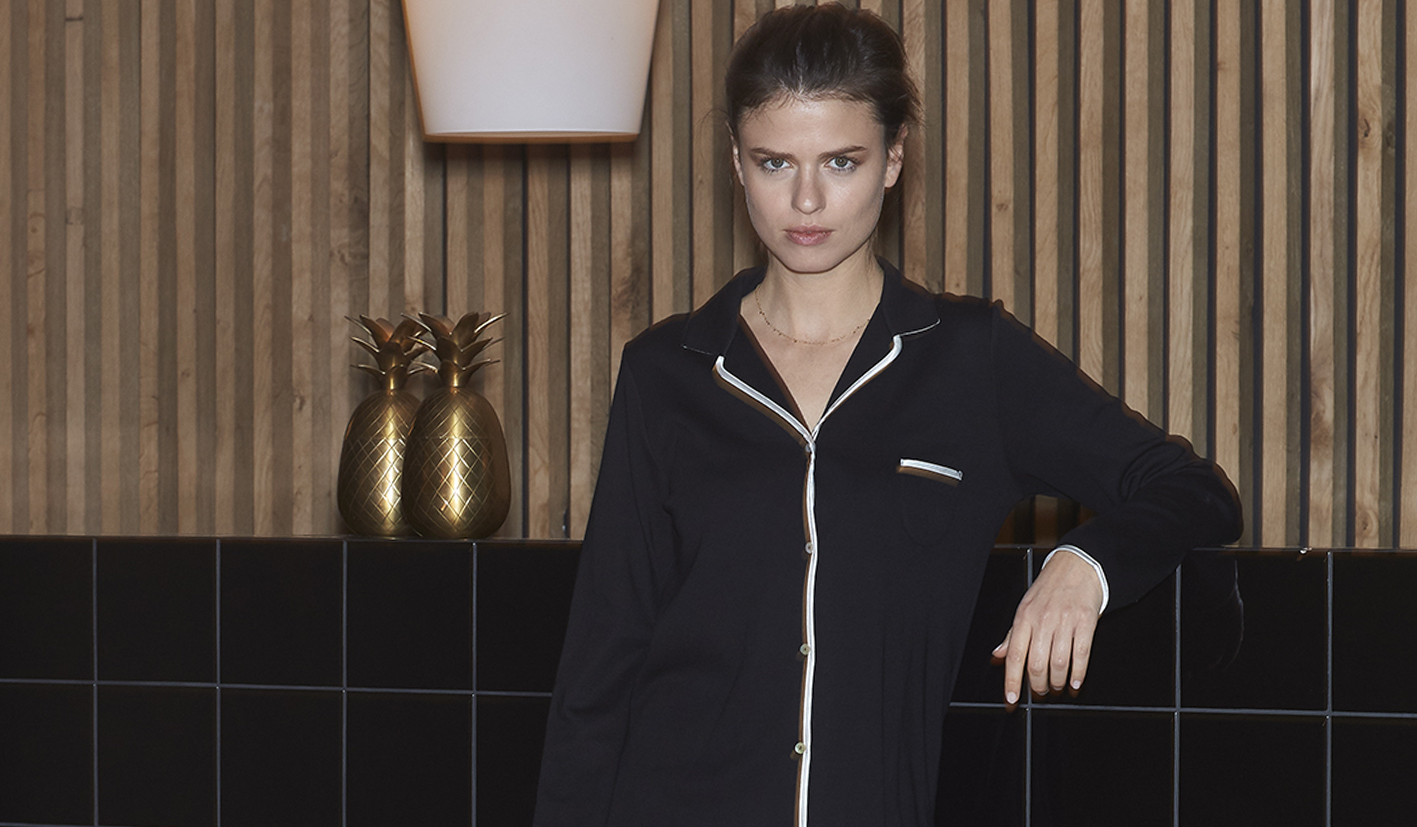 Monday 10.30: online team-meeting to set the goals for the week. Even if it's online from your living room, it's important to maintain a suitable professional attitude with your colleagues, not only for your reputation but also your own self-esteem.
How about rethinking and repurposing part of your wardrobe? Some Le Chat garments are too good to keep for bedtime, especially this elegant black blouse that is actually a pyjama top! This ESSENTIEL PJ top in 100% cotton jersey is as elegant as it is comfortable. Refine the look by putting up your hair, adding a touch of make-up, maybe some jewellery and your colleagues won't know any different. You might have to pinch yourself to believe it: it really is possible to have a meeting with your boss while in your pyjamas!
I need to pop out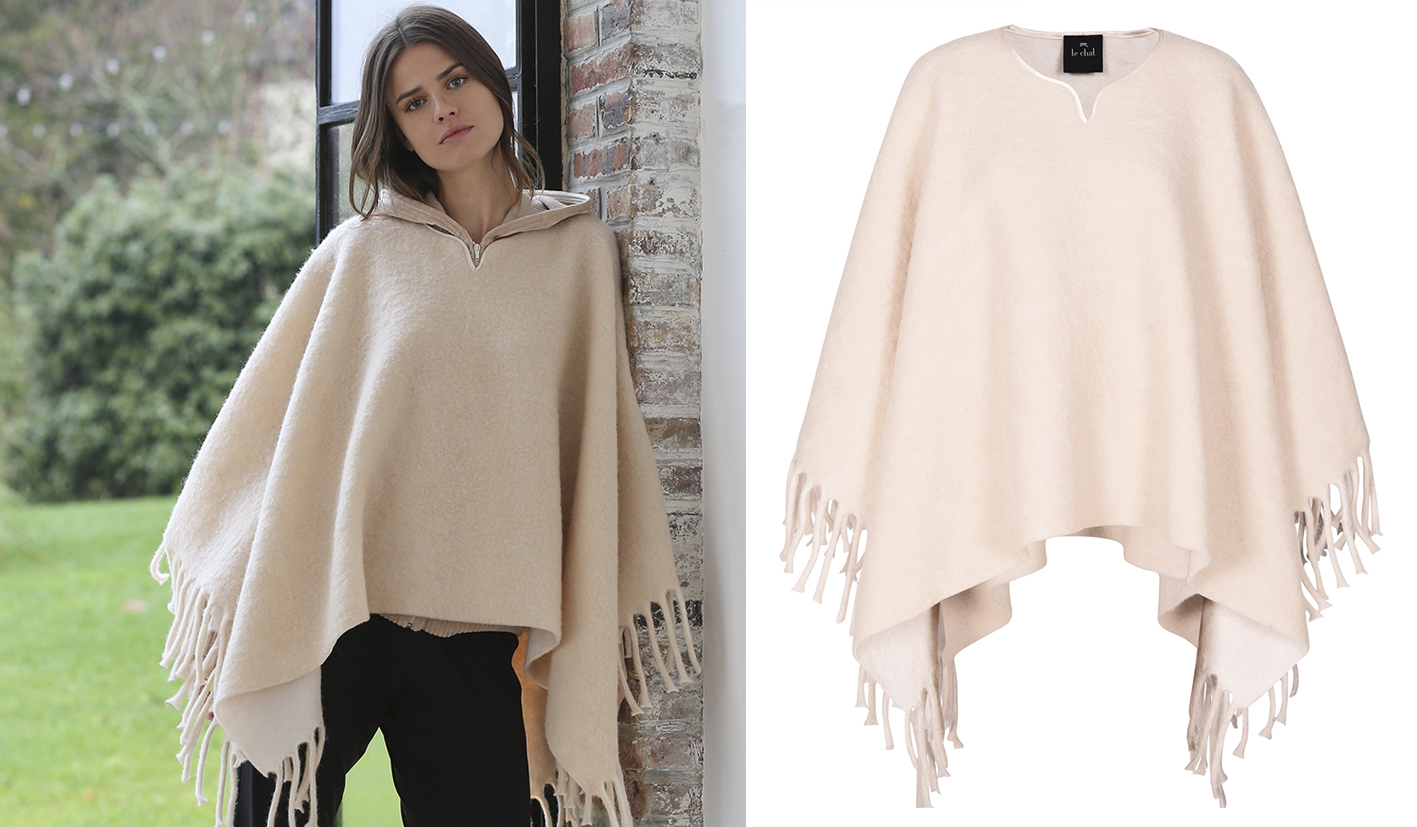 Need to send a letter? To buy lunch? To pick up the kids after school? No need to change the whole outfit, just slip on your all-purpose ESSENTIEL poncho over whatever you're wearing! The fringed detailing and satin-trim neckline bring this poncho right up to date, creating a garment that's right on-trend and the last word in casual chic. The 45% wool content means that it's so warm and comfortable you probably won't want to take it off, even when you get back home!
So, ladies, which of the outfits from Le Chat'sautumn-winter collection have you chosen for your home-working wardrobe?