You'll certainly have noticed out in the town, in shop windows and in the glossy magazines that jogging bottoms and sweatpants are THE current trend. Once synonymous with lazy-casual, this super-comfy champion of all clothing is back with a vengeance this season, becoming the must-have for any wardrobe. Forget those 1980s shiny tracksuits: the 2021 look manages to combine comfort with uber-cool. You might just find that Lingerie Le Chat's take on joggers is your new best friend when it comes to chilling out.
4 GREAT REASONS TO FALL FOR JOGGER-CHIC
Everyone from catwalk designers to fashionistas and celebrities is buzzing about 'joggers' or 'sweatpants' - and with good reason. Jogging bottoms have it all.
1- The height of comfort
Snug, soft, fleece-lined, light, oversize… there's nothing better than slipping on a pair of joggers to feel 100% comfy, indoors or out.
2- You can wear them any time of the day
Whether you're chilling at home, heading to the shops, or out for a woodland walk, your joggers take you from morning to night. How can you do without them?!
3- There's a style for everyone
In terms of fabric, cut and colour, you really can get a pair of joggers to suit, whatever you're looking for.
4- They go with everything
You can call them joggers, sweatpants or trackies, but they are so much more than sportswear. Team them with a tailored jacket, heels, jewellery, an up-do or a touch of make-up and you've got yourself a look that's right on the money, turning comfort into catwalk!
You get the picture: no need to be at all sporty to get your sweatpants on… and that's the best news of all!
JOGGER STYLE: HOW TO CARRY IT OFF
With its new spring-summer collection 2021, Lingerie Le Chat proves that you can stay 100% feminine, even in your joggers.
Which of these sportswear looks appeals to you? Terry-towelling? Pure cotton?
It takes all sports...
If you're passionate about classic sportswear you'll love these super-comfy outfits in terry-towelling, BLOSSOM and FARNIENTE, as well as the pure cotton range, HAMILTON.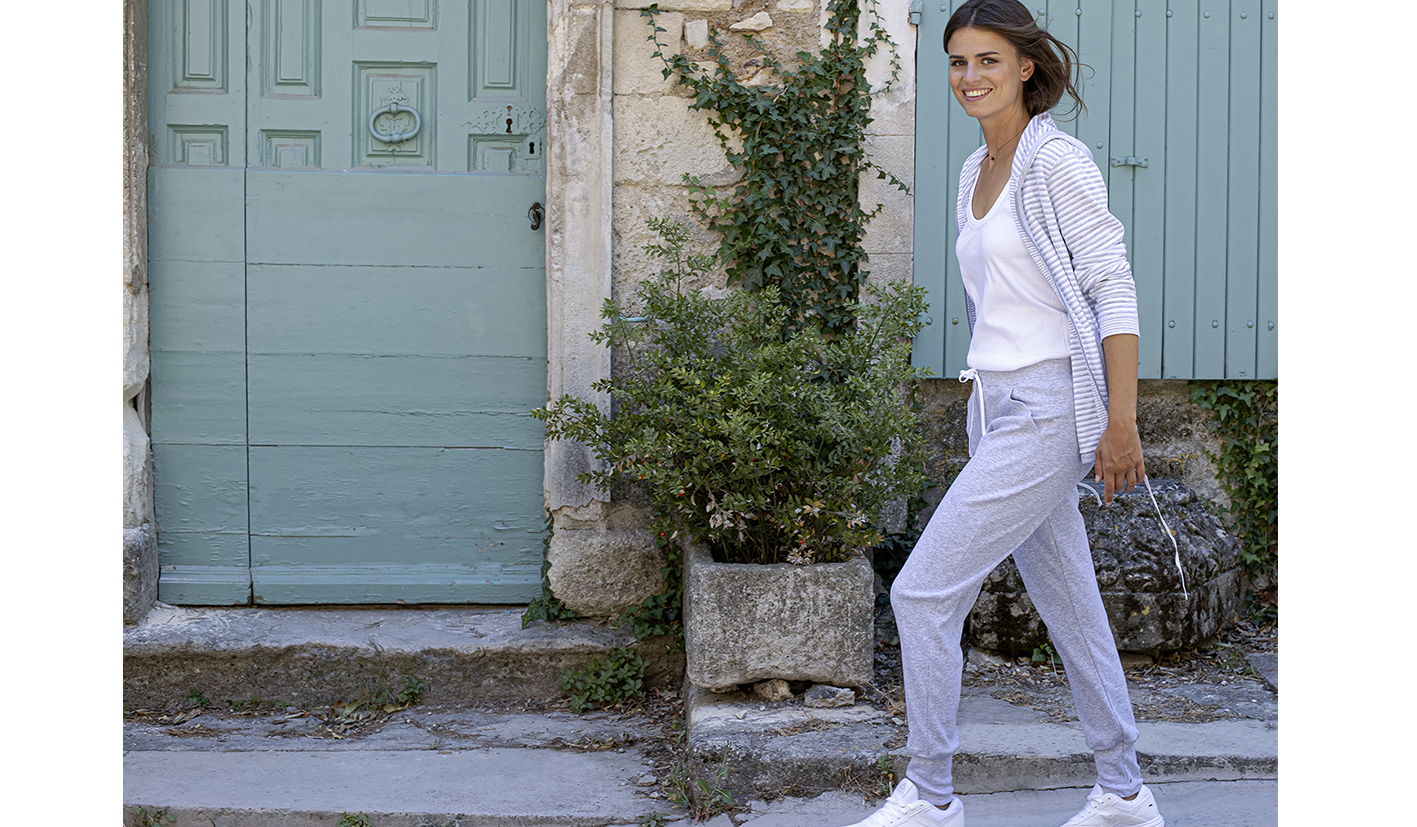 From the zip-up hoodie to the trousers, not forgetting the polo shirt, sweatshirt and traditional hoodie, you'll be kitted-out from head to toe; you just need to grab your hi-tops!
For the last word in effortless chic
Want to stay feminine without sacrificing comfort? Then this 100% CASHMERE leisurewear is exactly what you need!
This fantastic fabric combines softness, comfort and temperature-regulating with a sportswear look and ultimate luxury.
It's all about how you wear it.
Slip on your favourite white shirt (tucked in), a casual up-do with a few strands tumbling free, just a touch of lipstick, and whether you're popping to the high street or on yet another Zoom call with your workmates, you're good to go!
For a refined look
Yes, you can also look elegant in your joggers! Here's the proof with this BELLAGIO set in navy and white polka dots, where homewear meets nightwear.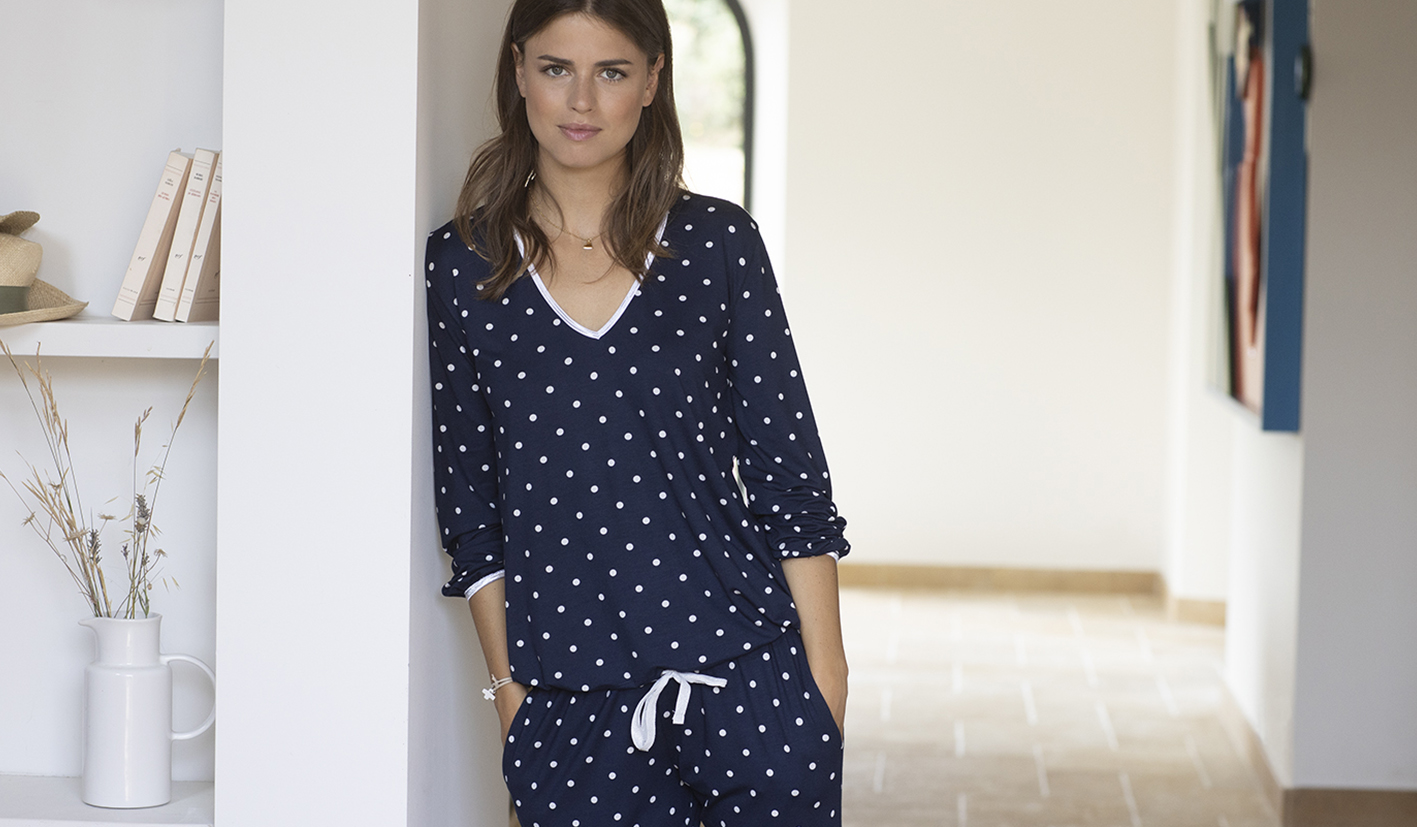 There's a flattering V-neck and decorative satin trim along the cuffs and neckline, side pockets on the joggers and total comfort combined with a designer feel.
Are you ready to join the swathes of people already convinced by their wonderful joggers? Grab your sneakers or trainers and take your pick from our new spring-summer collection at Lingerie Le Chat!