Behind the scenes at Lingerie Le Chat
If you love wearing your Le Chat clothes, it's no coincidence – it's the result of careful and passionate design work.
Follow the birth of a collection, from our first inspiration to the finishing touches and beyond.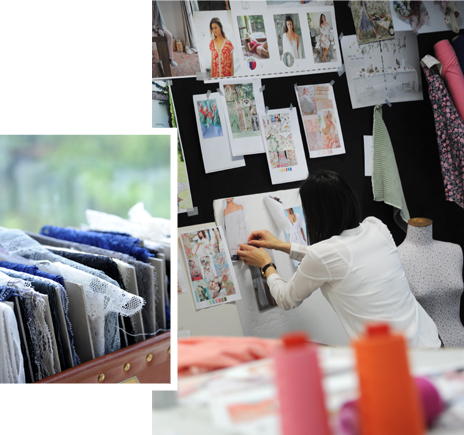 "To your moodboards!' – the start of a season
Remember that feeling of excitement when winter ends and spring begins (or vice versa)? That's how we feel at the start of every collection – that moment when we give free reign to our creativity.
In our design studio, moodboards are full of photos, colour charts, fabric samples and other treasures.
This hub of ideas leads to a multitude of new designs, both undeniably Le Chat and perfectly in keeping with current fashion.
The comfort and quality of our designs are of the utmost importance to us, and we make every effort to make sure you can enjoy them for as long as possible. We do this through many tests, alterations and fittings. If a material is beautiful, but not quite soft enough for our liking, or not wash-resistant enough, it's out! And are we sure this seam won't be uncomfortable?
Every collection therefore has many innovative features that add to our existing wealth of expertise. And, as always, standards are the order of the day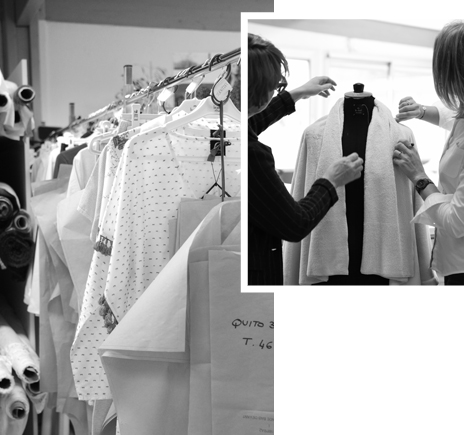 And, as always, standards are the order of the day
Our love for a job well done guides us every step of the way: design, manufacture and control, obviously, but also storage and shipping.
That's why, at our headquarters in Saône-et-Loire, every item is hung up on a hanger (not folded), then carefully checked before it is shipped directly to you, or to one of our thousand retailers in France and worldwide.
Whether you buy your Le Chat items at Galeries Lafayette in Paris, in a lovely multi-brand boutique or from your sofa, the Le Chat quality is always there.
« I'm not sure about my size' and other important questions
The last step – the advice and after-sales service – is just as important to us as the creation of our collections. If you're not sure about your size, for example, call us and we'll help you decide.
Having said that, our measurements are known to be so reliable that this issue shouldn't arise.